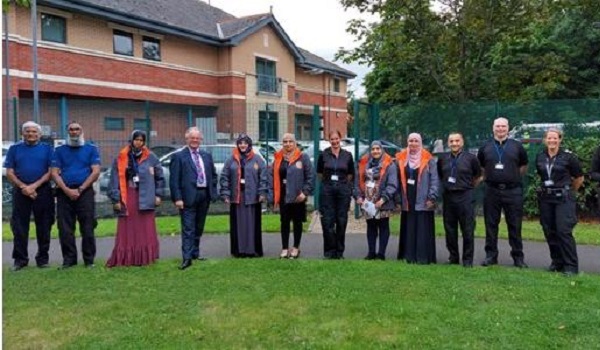 Police professional | New initiative pairs police patrols with community volunteers
New initiative pairs police patrols with community volunteers
Leicestershire Police are launching a new pilot initiative that will see community members team up with neighborhood officers to keep pace.
25 August 2021
By Tony Thompson
The project, called Neighborhood Active, will initially be piloted in the city's St Matthews and St Peters neighborhoods and Lutterworth, and it is hoped that it will create community cohesion and empowerment among local residents.
In collaboration with the police, active members of the neighborhood will participate in engagement marches, in order to visibly reassure their communities. Patrolling in pairs, volunteers will be equipped with a high-visibility "Neighborhood Active" jacket and, via their phone, will be able to stay in touch with their local team, record and map any issues or areas of concern and, using community applications. such as "Fix My Street" and "Love Leicester", being able to report a wide range of issues.
Inspector Yakub Ismail, East Leicester Neighborhood Police Area (NPA) Commander, said: I know they are delighted to serve their community.
"As they are residents of their area, they will be patrolling, they are aware of the issues and know which areas need special attention. And as an inspector, I look forward to building a relationship and resolving issues with them.
While the initiatives in East Leicester and Lutterworth both aim to tackle anti-social behavior in their communities, the pilot project in St Matthews and St Peters is reaching out to local mothers to help them talk to children in areas where the behavior is affected. antisocial is being committed.
The group of about 22 mothers will join the officers on patrol to talk with the children in the area about suitable places to hang out, as well as local activities they can participate in.
One of the participating community volunteers, Rukhsana Hussain, said: "As the Neighborhood Active coordinator in East Leicester, I am really excited to start the journey and be part of one of the communities that actively come together and form an alliance with the Leicestershire Police.
"We have created a structure that emphasizes engagement, building a safer community that can become stronger through positive change. Each individual has the right to live in his community as a contributor to the good.
All the community participants participated in different workshops to help them in their roles. The sessions, led by Chief Inspector Kam Mistry, who oversees the entire project, included discussions on stop and search procedures, a visit to a custody room, lessons on cybersecurity, get an overview of knife crime and make sure everyone is trained in first aid. . This is meant to help when everyone is on patrol and talking with the community about their concerns.
Chief Inspector Mistry said: "The training was provided to give everyone a sense of the very different things they may be interviewed about while on patrol in their area. Now that the training is complete and their verification is complete, I am delighted that they are going out into the communities with the agents and making a difference where it matters to them. Their dedication is inspiring and I want to thank all the volunteers in East Leicester and Lutterworth; they all have my full support.
Inspector Jim Purdie, Commanding Officer of Harborough and Wigston NPA, oversees the Lutterworth component of the Active Quarter. He said: "There is a real sense of community in Lutterworth, so I hope this new initiative will only strengthen those community ties and also provide an opportunity to strengthen the relationship between local police and residents.
"Our team of active neighborhood members are all Lutterworth residents; people of different origins and ages to enable us to engage with all residents of the community.
Leicestershire Police and Crime Commissioner Rupert Matthews supports the project and said: "This is exactly the kind of program needed to bring communities together and enable local people to work together for change.
"I promised to provide all police resources possible to make our streets safer, but I also believe that there are many benefits to encouraging residents to work hand in hand with the police to restore peace and pride among our communities and proactively solve problems.
"The government has developed ambitious plans to re-engage police with their local communities and reduce fear of crime and this is a great example of this approach. I wish the pioneers of this initiative. who have offered their eyes and ears for the good of their neighborhoods and the Leicestershire Police, all successes in this exciting endeavor.