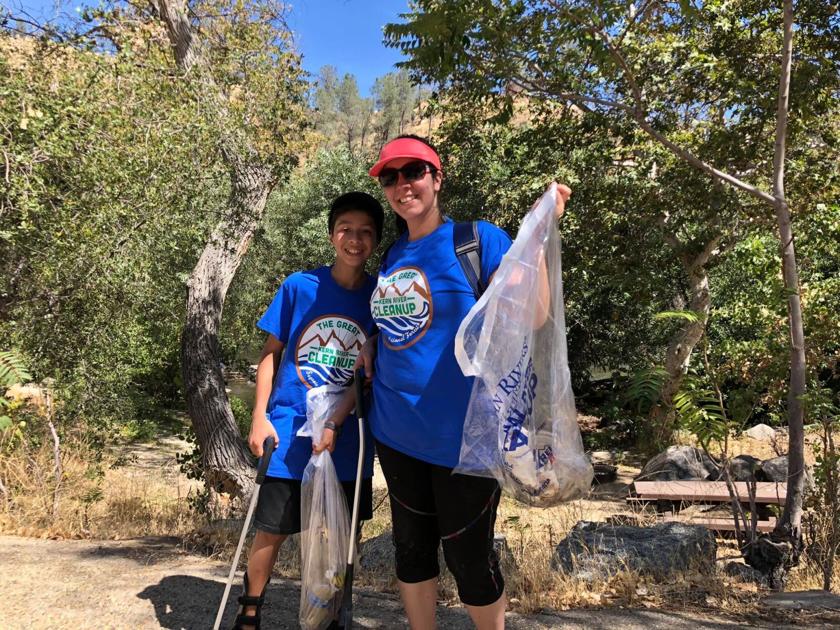 It's time for spring cleaning with community events | Entertainment
Clearly one day is not enough to focus on helping the planet and our community, so Earth Day, which is Thursday, has become more of Earth Week. Here are some ways to get involved and celebrate locally.
On Saturday, Bring Back the Kern, with support from the Kern River Parkway Foundation, will host a volunteer community cleanup at the San Miguel Commemorative Grove, just off Manor Street.
The effort will begin in San Miguel Grove at 9 a.m. with volunteers heading to the area under the Chester Avenue Bridge, giving much-needed attention to a severely degraded section of the Kern River Parkway.
Bring Back the Kern, a sub-committee of the Kern River Parkway Foundation, aims to raise public awareness of Bakersfield's predominantly dried up river and advocates for the revival of more regular water flow in the city.
He's partnering with the city to restore the riparian grove bordering the river, from Manor Street to Allen Road along the promenade, to reclaim it as a haven for wildlife habitat and recreation.
Before the cleanup, the city's rapid response teams remove the largest trash from the riverbed, according to a press release. On Saturday, they will provide dumpsters and a garbage removal service for the volunteer event.
The clean-up effort will run from 9 a.m. to noon. Volunteers are requested to wear a face mask and "work clothes" – long-sleeved tops, pants, closed-toe shoes, and gardening or work gloves. (Gloves will also be provided for those who do not have them.)
Those making a short drive north can participate in Saturday's Earth Week Lake Cleanup in Wofford Heights.
The Kern River Conservancy is teaming up with MtnRoo, a community of off-road Subaru enthusiasts, for a cleanup around Lake Isabella.
Volunteers will meet at the Boulder Gulch Campground staging area at 10 a.m. Groups of volunteers will be organized and sent to designated clean-up sites to work until 1:00 p.m.
After the clean-up, volunteers will return to base camp for a free lunch at Eddy Out Tap House.
Volunteers of all ages are welcome and equipment and PPE will be provided.
The Seeds of Inspiration Community Garden partnered with Keep Bakersfield Beautiful for an Earth Day celebration on Saturday.
The Oleander Garden Space hosts a day of activities, including a planting and planting party, musical performances, vendors, food and information sessions throughout the day.
Reyna Reyes and Lindsay Linegar will discuss community mindfulness at 9 a.m. At 10 a.m., Paul Vander Werf, president of the Kern River Valley Garden Group and president of vermiculture and vermicomposting for California Garden Clubs Inc. your garden. Andrea Nehisi, founder of Lotus Vibes Ensemble, will lead a drum circle and sound healing session at 11 a.m.
Seedlings and succulents will be available for donation, with all proceeds going to Amber's Garden Path, a memorial to founder Amber Beeson, who died late last year.
The day will also include acoustic performances by Vina and Crimson Skye, food from Outkast Catering and local suppliers Rare Moon Vintage, Land n Sea Alchemy, Wick-ed Naturals By Lilly and Lydianna's Healing Potions.
Saturday's event will serve as a membership drive for the Neighborhood Garden, which has been improving the community since 2013. While memberships were on hold last year due to the pandemic, those who wish to get their hands dirty in the garden can learn how to become a member.
Members have access to classes, events, garden education, and urban fresh food. They can attend seasonal harvests and picnics, as well as gardening, yoga, meditation and dance workshops.
The celebration will take place from 8:30 a.m. to 2:00 p.m. at the Garden, 405 Eye St.
And since recycling is another way to help the planet, here's one last event for Saturday. Kaiser Permanente is hosting a drug recovery and recycling event at their doctor's office at 3501 Stockdale Highway.
From 10 a.m. to 2 p.m., people can bring in their expired, unused, or unwanted medications, including over-the-counter medications as well as lightly worn clothing or furniture, old glasses and hearing aids, shredding waste, and electronic waste.
Equipment such as seated walkers, walkers, scooters, electric and manual wheelchairs, transport chairs (casters) and bath transfer benches will also be accepted.
Stefani Dias can be reached at 661-395-7488. Follow her on Twitter at @realstefanidias.