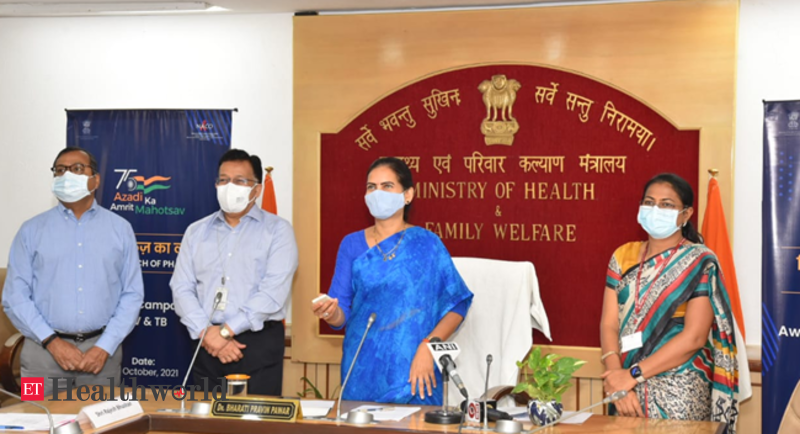 Engaging young community volunteers is needed, says Dr Bharati Pawar, Health News, ET HealthWorld
[ad_1]
New Delhi: Engaging young people as community volunteers will go a long way in raising awareness about HIV / AIDS, TB, blood donation, stigma and discrimination, the Union Minister of State (MoS ) for Health and Family Welfare, Dr Bharati Pawar.
In launching the phase II awareness campaigns on HIV / AIDS and tuberculosis under the leadership of Azadi ka Amrit Mahotsav, Pawar congratulated the National AIDS Organization (NACO) for the successful completion of the phase 1 of the awareness campaign on HIV / AIDS and tuberculosis.
Commended the efforts of national programs such as the National AIDS Control Program and the National Tuberculosis Elimination Program, Dr Pawar said these programs play a crucial role in improving health indicators. from India.
An electronic booklet developed by NACO was released on the occasion which showcased the variety of awareness activities carried out under Phase 1, it was published to guide and encourage students from across the country to participate in the planned activities. as part of the campaign.
Expressing his joy at the successful completion of phase 1 and the launch of the successive phase of the awareness campaign, Dr Pawar said: national interest. After the launch of phase I, I am happy to note that weeklong activities such as painting, impromptu debate and mask making related to HIV / AIDS awareness, tuberculosis and blood donation were held in 25 schools and 25 colleges in each state.
Rajesh Bhushan, Secretary of Health, Arti Ahuja, Additional Secretary, Alok Saxena, Additional Secretary, MoHFW and Director General, NACO, Nidhi Kesarwani, Director, NACO, Dr Anoop Kumar Puri, Deputy Director General, NACO and other senior ministry officials marked their presence at the event.
[ad_2]