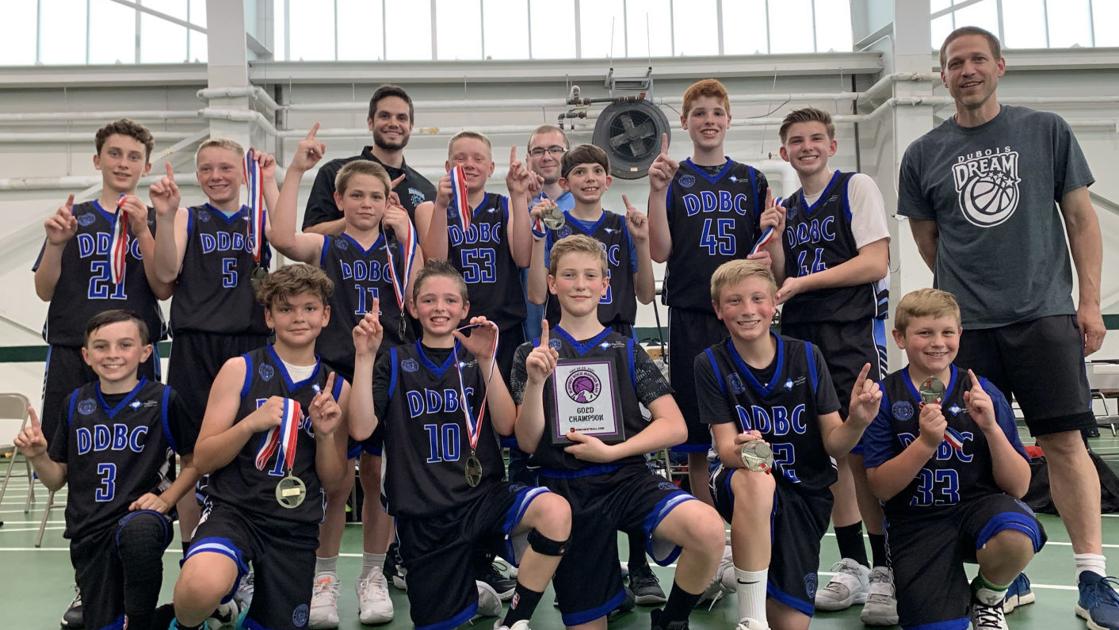 DuBois Dream hosts community events | Sports
[ad_1]
DuBOIS – The DuBois Dream has been very busy during its offseason as they host a lot of events and fundraisers for everyone to enjoy.
The Dream recently hosted a 3v3 "Tournament of Champions" which took place during DuBois Community Days on June 12 as part of the tournament's first round. 3v3 tournaments consist of several divisions which include the following: Boys and Girls Grades 3 to 5, Boys from Grades 6 to 8, Girls from Grades 6 to 8, High School Students, Women's Open Division (high school and up) and the open men's division (college age and up).
"They all went really well," said Albert Varacallo III, owner and general manager of DuBois Dream. "Last year we had over 80 teams for the tournament."
The first round winners were: Boys and Girls Grades 3 to 5, Leo Simbeck, Will Chapman, Landry Brem; boys in grades 6-8, Maddox Bennett, Jaxson Hanzely, Dylan Horner, Noah Farrell; daughters in grades 6 to 8, Brooklynn Baummer-Vogel, Ella Elensky, Julia Sebring, Mattie Gritzer; high school students, Isaac Hetrick, Noah Peterson, Clayton Cook; open women, Abby Guiher, Rylee Werner, Faith Jacob, Madison Runsica, Hope Jacob; open men, Lennon Lindholm, Jordin Sommers, Michael Orzechowski.
The second round will then take place at Brockway on Saturday July 3 as part of the town's old-fashioned July 4 celebration.
While attendance at this year's Community Days was down from last year – as other basketball events were going on at the same time – Varacallo said he hoped for more attendance at the event. from Brockway.
The ultimate goal of 3-on-3 tournaments, Varacallo said, is to have tournaments in cities in the tri-county area.
"We could have one in Clearfield, St. Marys and others," Varacallo said. "Last year we did them all at DuBois, which went really well. Now we are expanding with Brockway.
The winner of each division of the DuBois tournament will then face the finalist of the Brockway tournament, as the winners of the Brockway division will then face the finalists of DuBois. This currently has a tentative date of July 25 at DuBois.
"I hope we can start rivalries this way," Varacallo said.
Another element that has been a hit this year at festivals and parades around the city has been the creation of "Busketball" by Dream.
"It's a hoop that's on the back of a school bus," Varacallo said. "Our trainer Rick (Homer), he actually drives school buses and it was a hit on the parade. We'll also be bringing him back for July 4th (for the Brockway Parade).
Varacallo said he has partnered with the Make-A-Wish Foundation and Clepper Bus Services with Busketball. People are then encouraged to donate to try their luck at the Busketball basket – those who do can win prizes.
"At DuBois, our grand prize was a 65-inch TV," Varacallo said. "We'll have more great prizes for the 4th of July celebration at Brockway when we kick off the Busketball next door to have fun and support a great cause. "
Although the Dream itself ended its season in April, its youth basketball and AAU teams just finished this month after another successful year.
"Our DuBois Dream Basketball Club and AAU youth basketball program has grown significantly over the past three years," said Varacallo. "We have kids from across the tri-county area on our teams that range from four-year-old boys and girls (our development group) to our High School Select team which includes many recognizable faces from District 9 on. our team – including rising seniors Alec Srock (DCC), Jalen Kosko (DCC), Griffin Ruhlman (Brookville), Danny Lauer (Brookville), Charlie Breindel (ECC), Gabe Kengersky (Punxsy), Andrew Shaffer-Doan (DuBois) ) and Caden Rainey (Union).
The 12 year olds won the Slippery Rock Summer Slamm Tournament and finished second in Spooky Nook at the 76ers Classic Tournament.
"Our selected high school boys also won some tournaments," Varacallo said. "A lot of these kids are known in the area and it's nice to see them compete against some big (opponents)."
The selected high school boys also won the State College Mayhem at Tournament Center, the Slippery Rock Summer Slamm Tournament, and finished third at the Hoop Group Pitt Jamfest.
[ad_2]