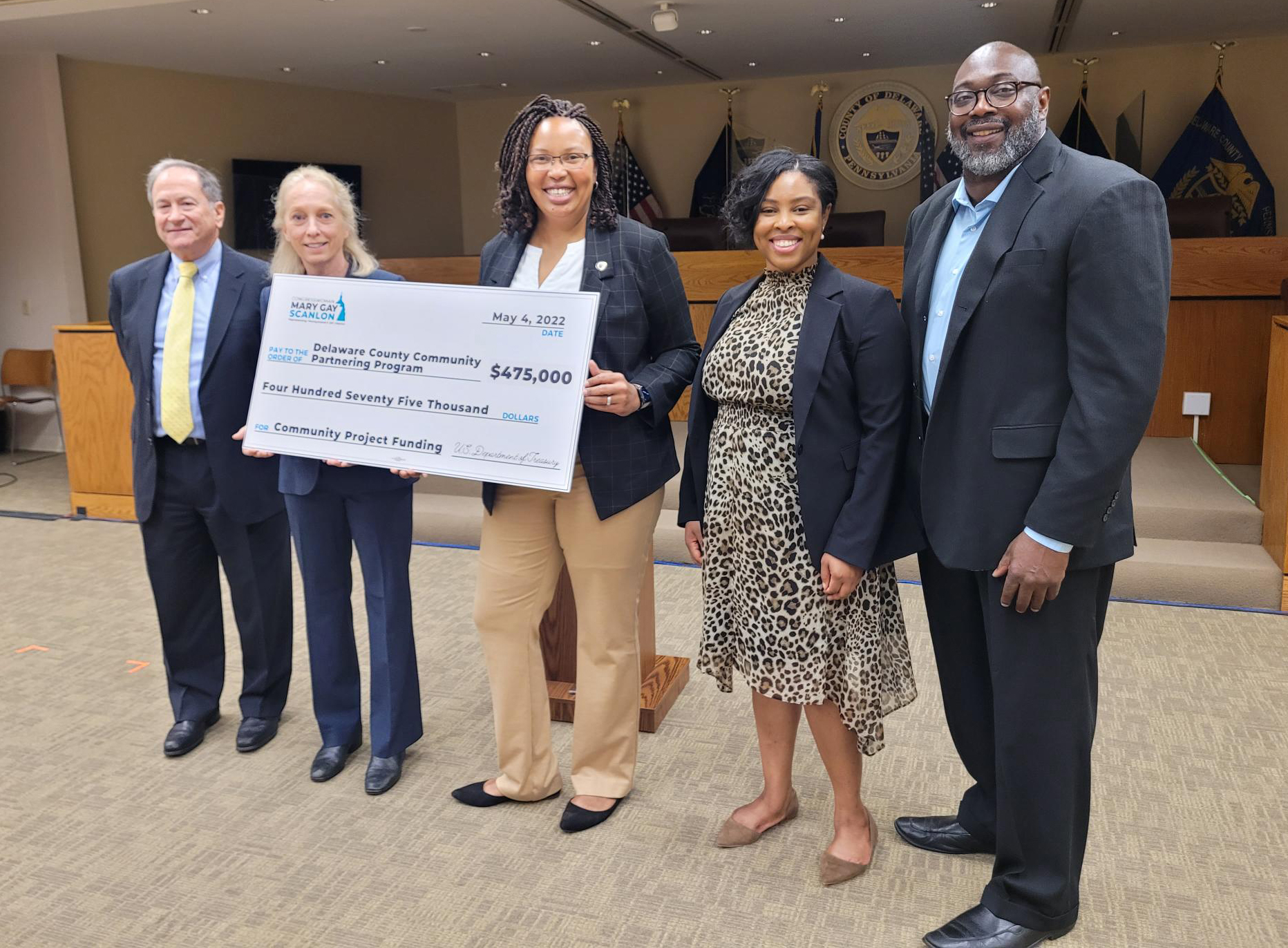 Delaware County Announces $475,000 in Grants for Community and Neighborhood Projects
Released: May 4, 2022
The Delaware County Council joined Congresswoman Mary Gay Scanlon on May 4 to highlight $475,000 in federal funding to support a new micro-grants program in Delaware County. The Delaware County Community Partnership Program is specifically designed to provide outreach services to historically underserved communities.
"The $475,000 federal funding we secured for the Community Partnership Program will help neighborhoods and people who have been impacted by divestment for far too long," said MP Scanlon. "I'm thrilled with all of the projects we've been able to support through the Community Project Funding process, and what's special about Delaware County's new Community Partnership Program is that it puts those taxpayer dollars back into the hands of our neighbours. This will give Delaware County residents and organizations the ability to make decisions about projects that directly impact their communities, and then provide them with the funding needed to implement their ideas.
The Delaware County Community Partnership Program will empower neighborhoods and strengthen communities through the deployment of micro-grants. The average grant is expected to be $25,000, which will allow the initiative to have a broad impact. Community groups, neighborhood groups and organizations can receive a grant to help fund projects organized and supported by neighborhood residents and community groups. Eligible projects may include (but are not limited to) community gardens, pocket parks, cycling facilities, pedestrian improvements, coordination of seniors' transportation, snow removal for people with reduced mobility, or educational initiatives such as energy awareness programs. Micro-grants can also be used to meet local cost-sharing requirements for other private and public grant opportunities.
The Community Partnership Program is specifically designed to provide outreach services to historically underserved neighborhoods that have borne the brunt of divestment for many decades. The program reduces barriers to accessing resources for community improvements and places a high value on resident participation.
"We are thrilled to offer these grants to residents and hope that neighborhood and community groups will take advantage of the grants and use them for projects in their communities," said Delaware County Council President Dr. Monica Taylor. . "These types of projects allow residents to work together to improve the places where they live, work, play and raise families. We invest in neighborhood groups and organizations that work together to invest their time and talent to improve their communities. »
Applications for the Community Partnership Program are now being accepted. Additional information on how to apply is available at delcopa.gov/cpp.
---