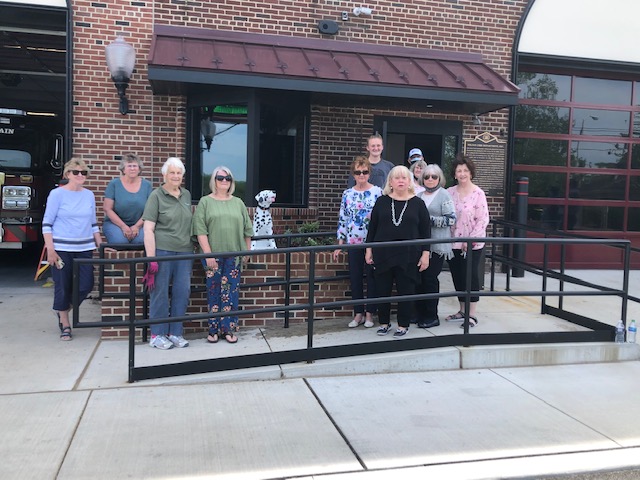 Community volunteers plant garden at Milton Fire Department
[ad_1]
Members of several community service organizations gathered on May 2 to plant the flower bed in front of the newly renovated Milton Fire Department.
The Milton Garden Club, the Women's Club of Milton and Anna Fantoli, a student from Cape Town, provided the design, plants and works for the new garden. The female auxiliary came up with the idea and the Milton Fire Department provided the space. The final touch to the garden was the return of Megee, the stone Dalmatian mascot dog who has been painted several times in recent years by the late Myra Oates. After several months of storage in a garage while the building was being renovated, John Oates did a touch up on Megee before bringing it into the garden.
"As we began to finish the construction part of the renovation, a group of auxiliary members asked what was going to be done with the newly created flower bed which was empty," said Mary Ann Warrington, president of the female auxiliary. from the Milton Fire Department. "Knowing the great job the Milton Garden Club does in our town, I made a phone call to longtime club member Kathryn Greig. From that phone call, five community organizations got together and put a nice touch to our fire station. The bonus was to bring our mascot Megee back to his place. "
"When I answered the phone and Mary Ann explained the situation I wasn't sure because the garden club is pretty small right now – but I didn't mean to say no," said Greig. . "A few minutes after the phone call from Mary Ann, I got a message from Nancy Trask asking if I had work, as her granddaughter had been inducted into the National Honor Society in Cape Town and was scheduled to do a few hours. I was familiar with Anna's work as she had helped me in the past so I called Mary Ann and told her the project was underway.
The project was funded by the Women's Club of Milton using remaining funds from the Pollinator Garden Project from two years ago.
"The Women's Club of Milton was proud to provide the plants for the Firehouse Flower Garden and to support the work of the Milton Garden Club," said Carol Ann Stone, Club President. "We enjoyed watching the planting and look forward to the array of beautiful, colorful flowers."
The garden is a mixture of small shrubs, perennials and annuals. Because the view from the double window overlooking the garden must be clear, the height of the plants had to be taken into account. The garden will be watched over by several members of the garden club throughout the growing season to check for plant growth. The members of the Female Auxiliary will take care of the watering. Daffodil and tulip bulbs will be planted in the fall for spring flowering.
"It was a wonderful project, and I'm so happy I got to be a part of it," said Greig. "I love how so many people worked together to achieve this. The requirement for community service hours is fantastic; Anna was perfect and it was a pleasure working with her. I hope the Milton Garden Club will be called upon to supervise other students in the future. "
[ad_2]