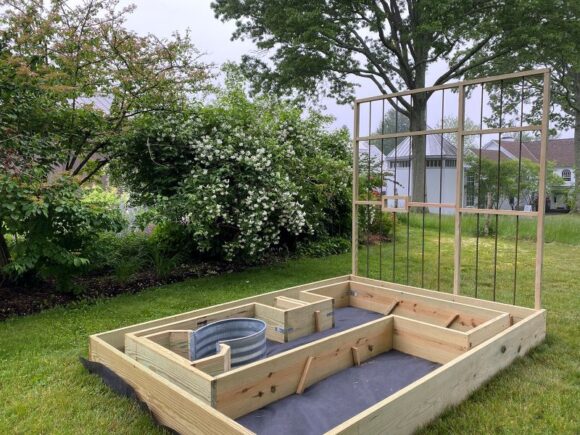 Artists and community volunteers transform a prison cell into a garden at the Flo Gris museum; A lonely garden artist will speak on Sunday
[ad_1]
OLD LYME – As part of the current exhibition at the Florence Griswold Museum, Social & Solitaire: Reflections on art, isolation and renewal, the Museum is working with New Orleans artist Jackie Sumell to install one of its Solitary Garden beds on the Museum grounds.
A group of community volunteers will work with the artist to create the light fixtures and the plant garden
Thursday June 10 from 10 a.m. to 5 p.m.
Friday June 11 from 10 a.m. to 5 p.m.
Saturday June 12 from 10 a.m. to 1 p.m.
If you would like to volunteer for this project, visit https://florencegriswoldmuseum.org/solitarygarden/
The Solitary Garden project comes to life through correspondence between a volunteer and a currently incarcerated "gardener". Their letters explain to the Museum what types of flowers or plants grow in the garden bed. Each solitary garden is a gesture of hope connecting an isolated person to the outside world through the restorative act of nourishing the plants.
The size and layout of sumell's 6 'x 9' plots mimic prison cells, with 'props' made from biodegradable materials that will fade over time as plants and flowers mature.
The gardener is currently incarcerated at York Correctional Institution, a facility for women in Niantic. While waiting for the agreement with the prison and the gardener, we will soon be able to share the initials of the gardener.
Artist Jackie Sumell works with incarcerated gardeners across the country and has encouraged the curator to get in touch with someone in prison locally.
Hartford artist Judy Dworin of the movement-based, multi-arts Judy Dworin Performance Project works with incarcerated women in York and helped identify the gardener based on her past involvement in gardening and gardening programs. write to prison.
Sumell will be at the Museum on Sunday June 13 at 2 p.m. for a free field conference. she will talk about her Solitary Gardens and The Prisoner's Apothecary, a traveling project that cultivates medicinal plants in collaboration with incarcerated people and distributes them to affected communities nationwide.
The Solitary Gardens project cultivates conversations around alternatives to incarceration by catalyzing compassion. This project asks us directly and metaphorically to imagine a landscape without prisons.
Editor's Note: Artist's name is intentionally lowercase. The Florence Griswold Museum is located at 96 Lyme Street, Old Lyme, CT.
[ad_2]